Future and Emerging Trends in Language Technology
19-20 November, Seville (Spain)
News about the workshop:
---
Download Second Call for Papers: (PDF)(TXT)
In recent years, new approaches, techniques and models have emerged in the field of language technology. Several factors have contributed to this progressive growth. The creation of large corpora and linguistic resources, the consolidation of statistical models based on different machine learning techniques or substantial improvements in the quality and robustness of speech recognition systems, dialogue management or automatic translation, among others, have made the field of language technology a promising area of research and an emerging industry.

Furthermore, the integration of language technologies with converging disciplines such as robotics, social networking, Internet of Things, or even within the new framework of the ICT sector defined by mobile devices (mobile computing), Big Data, cloud computing creates new application areas involving research challenges that are to be addressed in the near future. These are, after all, challenges that will in turn affect the design of policies and guidelines for research and investment in both the public and private sectors.

The Workshop 'Future and Emerging Trends in Language Technology' has been conceived as a meeting point where experts and professionals in the fields of language technologies and other converging areas will discuss the state of the art, as well as the emerging trends in this sector. The main objective of this workshop is to serve as a bridge between academia and industry, as well as representatives of agencies that coordinate research and innovation policies. The workshop thus guarantees a multidisciplinary identical spirit in which experts will be able to present and analyze the trends that will shape the immediate future in this sector.

The structure of the Workshop will feature a significant number of experts in language technologies and convergent areas. One objective will be the organization of forum sessions in order to review some of the current-trend research projects that are already addressing new methodological approaches and proposing solutions and innovative applications. A second major objective will be brainstorming sessions where representatives of the most innovative industrial sector in this area can present and describe the challenges and socio-economic needs of the present and immediate future. All researchers are invited to submit proposals that incorporate solid research and innovation ideas in the field of language technology and in connection with other convergent areas.
Programme
Thursday 19th November 2015
Registration (8:30 - 9:00)
Welcome (9:00 - 9:30):


D. Manuel Torralbo (Secretario General de Universidades, Investigación y Tecnología; Junta de Andalucía)
Representacion del rectorado (Universidad de Sevilla)
D. Jose F Quesada (Program Chair - FETLT 2015)

Keynote Speaker
9:30 - 10:30
Steve Young (Cambridge University): Towards Open Domain Spoken Dialogue Systems (abstract)

Coffee Break (10:30 - 11:00)

Keynote Speaker
11:00 - 12:00
Sebastian Möller (TU Berlin; Telekom Innovation Labs): Motivating New Interaction Experiences Involving Implicit Interaction, Body Sensors, Adaptive, and Persuasive Interface (abstract)
Paper Session 1 (12:10 - 13:30)
Session chair: Mike McTear (University of Ulster)
12:15 - 12:40
Manny Rayner, Alejandro Armando, Pierrette Bouillon, Sarah Ebling, Johanna Gerlach, Sonia Halimi, Irene Strasly and Nikolaos Tsourakis: Helping Domain Experts Build Phrasal Speech Translation Systems
12:40 - 13:05
Loredana Cerrato, Akira Hayakawa, Saturnino Luz and Nick Campbell: A Speech-to-Speech, Machine Translation Mediated Map Task: An Exploratory Study
13:05 - 13:30
David Griol, Jose M. Molina, Araceli Sanchis and Zoraida Callejas: Combining several user models to improve and adapt the dialog management process in spoken dialog systems

Lunch (13:30 - 14:30)

Special Session on Research Projects (14:30 - 18:00)
Session chairs: Joseph Mariani (LIMSI-CNRS & IMMI) / Jose F Quesada (CICA & U. of Seville)
Keynote Speakers
14:30 - 15:15
Asunción Gómez (Univ. Politécnica de Madrid): Linguistic Linked Data: Paving the way towards Maximising (Re)Usability of Linguistic Resources (abstract)
15:15 - 16:00
Giuseppe Riccardi (University of Trento): SENSEI: Making Sense of Human Conversations (abstract)

Coffee Break (16:00 - 16:30)

16:30 - 17:15
Nuria Bel (Universitat Pompeu Fabra): META-NET: Multilingual Europe Technology Alliance - Network of Excellence (abstract)
17:15 - 18:00
Steve Renals (University of Edinburg): A Roadmap for Conversational Interaction Technologies (abstract)
Social Event (18:30 - 20:00): Visit to Fabrica de Tabacos
Gala Dinner (20:30): Restaurant Abades Triana
Friday 20th November 2015
Paper Session 2 (8:30 - 10:10)
Session chair: Rebecca Jonson (Artificial Solutions)
8:30 - 8:55
Adrian Fonseca Bruzón, Aurelio López-López and José Medina Pagola: Exploring Random Indexing for Profile Learning
8:55 - 9:20
Diego Uribe: Text Categorisation by Using Sentiment Composition
9:20 - 9:45
David Griol, Jose M. Molina, Araceli Sanchis and Zoraida Callejas: An approach to Sentiment Analysis for mobile speech applications
9:45 - 10:10
Rodolfo Delmonte and Rocco Tripodi: Semantics for social media

Coffee Break (10:10 - 10:30)

Paper Session 3 (10:30 - 11:45)
Session chair: Emmanuel Rayner (University of Geneva)
10:30 - 10:55
Luigi Di Caro and Guido Boella: Semantic Similarity Reasoning
10:55 - 11:20
Roman Shtykh and Mitsuharu Makita: Adopting Semantic Similarity for Utterance Candidates Discovery from Human-to-Human Dialogue Corpus
11:20 - 11:45
Stefan Hillmann and Klaus-Peter Engelbrecht: Modelling Goal Modifications in User Simulation
Keynote Speaker
12:00 - 13:00
Pierre Paul Sondag (European Commission): Speech and dialogue technologies, assets for the multilingual Digital Single Market (abstract)
Closing Session (13:00 - 13:30):


D. Manuel García León (Director General de Investigación y Transferencia de Tecnología, Junta de Andalucía)
Representacion del rectorado (Universidad de Sevilla)
D. Francisco J. González (Decano de la Facultad de Filología, Universidad de Sevilla)
D. José L. Sevillano (Director de la Escuela Superior de Informática, Universidad de Sevilla)
D. José F. Quesada (Program Chair - FETLT 2015)
Important Dates
Paper submission deadline
25th July 2015
August 23th, 2015 (extended, firm)
Acceptance notification
15th September 2015
Paper final version submission
1st October 2015
Early registration deadline
1st October 2015
Workshop dates
19th - 20th November 2015
Call for papers
---
Scope
The Workshop Future and Emerging Trends in Language Technology (FETLT2015) has been conceived as a meeting point where experts and professionals in the fields of language technologies and other converging areas will discuss the state of the art, as well as the emerging trends in this sector. The main objective of this workshop is to serve as a bridge between academia and industry, as well as representatives of agencies that coordinate research and innovation policies. The workshop thus guarantees a multidisciplinary identical spirit in which experts will be able to present and analyze the trends that will shape the immediate future in this sector.

Following this approach, the organization of the workshop welcomes the reception of papers under the following categories:
New applications of key consolidated approaches

Authors can submit their paper on new strategies, models and consolidated techniques at the academic or industrial level that are being used right now to tackle any issue in the field of Language Technology. Papers under this category must provide a brief explanation of the foundations of the approaches proposed and the areas and applications for which those techniques are useful in the present.

Emerging research

Authors can submit their paper under this category when they have preliminary results obtained from ongoing research projects. Papers must describe the motivation of the approach, as well as the scientific, methodological and/or technological approach chosen. Papers must also analyze the advantages and benefits derived from such approaches for a broad application in the field of Language Technology.

Challenge papers

Authors can submit a paper on different fields and convergent areas related to Language Technology describing the occurrence of new and constant challenges for both the academic and the industrial areas. These papers must indicate which areas and specific problems are currently posing a concrete technological and/or methodological challenge. Papers under this category must include the reasons why present-day techniques should be considered insufficient to tackle the issues at hand by the presentation of preliminary research/development results as a justification. Additionally, articles in this section should propose research strategies that can be considered promising to provide sound solutions to the problems defined, with a sound and clear scientific and technical argumentation.
---
List of topics
Topics should be related to any area of Speech Technology, including those studies that can be considered coming from convergent areas or even industrial applications. Topics of interest include, but are not restricted to:
Core areas of interest
A.1) Speech Recognition

Speech assistants
Voice search

A.2) Information retrieval, Information extraction and Text mining

Topic spotting and classification
Entity extraction
Spoken document retrieval

A.3) Semantics and Ontologies
A.4) Dialog Modelling and Management

Open domains
Incrementality
Statistical DM
Hybrid models
World knowledge
Metacognition

A.5) Machine Translation

Fully-automated MT services in Global Business and Government Services
Speech-to-speech MT

A.6) Development Frameworks
A.7) Multimodality
A.8) Multilinguality
A.9) Mathematical foundations
A.10) Language resources and Evaluation

Multilingual resources
Metadata, annotation, tools
Convergent areas of interest
B.1) Mobile Devices
B.2) Robotics and Vision
B.3) Machine Learning
B.4) Games & Social Networks
B.5) Brain-computer Interfaces
B.6) Technology background: Mobile, Cloud, Social Media, and Big Data
B.7) The Internet of Things (IoT)
Industrial areas of interes
Integration of state-of-the-art LT in support of multilingual global business applications:

C.1) Speech-to-Speech Translation
C.2) Cross-lingual Information Retrieval
C.3) Multilingual global marketing
C.4) Sentiment analysis

Applications to industrial sectors:

C.5) Healthcare and BioMedicine NLP
C.6) Social Media
C.7) Smart Cities
C.8) Opinion mining
C.9) Public Administration
C.10) Instruction & Teaching
C.11) Communications

LT in the Web World:
---
Submission procedure
Authors are invited to submit non-anonymized papers in English presenting original and unpublished research, not currently submitted elsewhere.

Regular papers should not exceed 12 single-spaced pages (including eventual appendices) and should be formatted according to the standard format for Springer Verlag LNCS series (details here).

Files must be sent via easychair conference page

Papers submitted must identify the category as well as up to 3 of the main topics aforementioned.
---
Publication
The proceedings will be published by Springer in the LNAI series and will be available by ordinary mail after the conference.
Keynote speakers
---
Núria Bel
Dr. Núria Bel, Associate Professor of the Universitat Pompeu Fabra (UPF), and Head of Research Group "Technologies of Language Resources" at the Institut Universitari de Lingüística Aplicada, UPF. Her current lines of research are related to development of methodologies and tools for the automatic acquisition of language resources from text data.
She has coordinated the PANACEA project (7FP-ITC-248064) devoted to the automatic production of Language Resources and has actively participated in more than 15 European and national funded research projects related to Language Resources such as: MULTEXT (LRE62050), LSGRAM (LRE61029), PAROLE (LE2-4017), SIMPLE (LE4-8346), LIRICS (e-content 22236), METANET4U (CIP-PSP-270893) and to Infrastructures for research in Humanities and Social Sciences: CLARIN (FP7-INFRA-2007-1-212230) and DASISH (INFRA-2011-283646). She is currently member of the Executive Board of META-NET Network of Excellence.
---
Asunción Gómez-Pérez
Prof. Dr. Asunción Gómez-Pérez is Full Professor at the Univ. Politécnica de Madrid and director of the OEG at UPM. She has a B.A. in Computer Science (1990), M.S.C. on Knowledge Engineering (1991), Ph.D. in Computer Sciences (1993) and MS.C. on Business Administration (1994). She was visiting (1994-1995) the Knowledge Systems Laboratory at Stanford University. She also was the Executive Director (1995-1998) of the Artificial Intelligent Laboratory at the School.
She led at UPM the following EU projects: MKBEEM, Ontoweb, Esperonto, Knowledge Web, NeOn, SEEMP, OntoGrid, Admire,Dynalearn, SemSorGrid4Env, SEALS etc, and she coordinated (OntoGrid, SemSorGrid4Env,and SEALS).
She has published more than 150 papers and she is author of one book on Ontological Engineering and co-author of a book on Knowledge Engineering. She has been co-director of the summer school on Ontological Engineering and the Semantic Web since 2003 up to now. She was program chair of ASWC'09, ESWC'05 and EKAW'02 and co-organiser of many workshops on ontologies. She reviews papers in many conferences and journals.
---
Sebastian Möller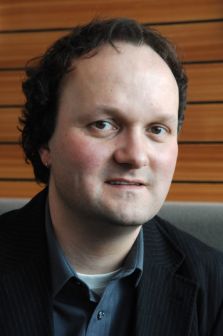 Sebastian Möller studied electrical engineering at the universities of Bochum (Germany), Orléans (France) and Bologna (Italy). He received a Doctor-of-Engineering degree at Ruhr-University Bochum in 1999 for his work on the assessment and prediction of speech quality in telecommunications, and the teaching qualification at the Faculty of Electrical Engineering and Information Technology at Ruhr-University Bochum in 2004, with a book on the quality of telephone-based spoken dialogue systems. Since June 2005, he works at Telekom Innovation Laboratories, TU Berlin. He was appointed Professor at TU Berlin for the subject "Quality and Usability" in April 2007, and heads the "Quality and Usability Lab" at Telekom Innovation Laboratories. He worked as a Visiting Fellow at MARCS Auditory Laboratories, University of Western Sydney (Australia), was Visiting Professor at the Universidad de Granada (Spain), at Ben Gurion University of the Negev in Be'er Sheva (Israel), and at NTNU in Trondheim (Norway). Since 2012, he is Adjunct Professor at the University of Canberra (Australia). His most recent book on "Quality Engineering" was published in 2010, and his co-edited book on "Quality of Experience: Advanced Concepts, Applications and Methods" in 2014. His research interests include the quality of speech and video transmission, the usability of speech-based and multimodal systems, model-based prediction of quality and usability, multimodal and mobile interaction, as well as usable security and privacy.
---
Steve Renals
Steve Renals is Professor of Speech Technology and Director of the Institute of Data Science and Engineering at the University of Edinburgh. He previously held positions at Sheffield, Cambridge, and ICSI Berkeley. He has over 200 publications in speech and language processing, and has led several large projects in the field, including the UK EPSRC Programme Grant Natural Speech Technology and the FP7 roadmapping project ROCKIT. He is a senior area editor of the IEEE/ACM Transactions on Audio, Speech, and Language Processing and a member of the ISCA Advisory Council. He is a fellow of the IEEE, and a member of ISCA and of the ACM.
---
Giuseppe Riccardi
Prof. Giuseppe Riccardi is founder and director of the Signals and Interactive Systems Lab at University of Trento (Italy). From 1990 to 1993 he worked with Alcatel-Telettra Research Laboratories on speech coding algorithms and GSM standards. From 1993 to 2005, he was at AT&T Bell Laboratories (USA) and then AT&T Labs-Research (USA) where he worked in the Speech and Language Processing Lab. In 2005 he joined the Department of Information Engineering and Computer Science at University of Trento (Italy). At AT&T he pioneered the natural language conversation with computers in the "How May I Help You?" research program which led to the first natural language deployed service in 2000. His university research group contributed to the language understanding and machine learning algorithms of the IBM WATSON computer that won the Jeopardy! Challenge in 2011.
Prof. Riccardi has co-authored more than 150 papers and more than 70 patents in speech and language processing, dialogue systems and machine learning. He is Fellow of IEEE. He has received many national and international awards. He advices organizations on technology-driven innovation and transformation.
---
Pierre Paul Sondag
After a M.Sc. in business computer science from the University of Lyon I, France, Pierre-Paul Sondag hold diverse positions as computer scientist in private manufacturing and service industry. Appointed in 1989 as an official at the European Commission in Luxembourg, Mr Sondag became later Project Officer in charge of organising calls for proposals and monitoring RTD projects funded by the EC. His interest and projects portfolio covered over time a wide scope of areas including machine translation, information retrieval, semantic web, robotics, speech technologies and innovation, providing him an overview about the complementarities among these areas. His focus is now on actions and projects addressing the Data Value Chain.
---
Steve Young
Steve Young is Professor of Information Engineering at Cambridge University and Chairman of VocalIQ Limited. Previously he was co-founder and Technical Director of Entropic Ltd from 1995 until 1999 when the company was acquired by Microsoft. His research interests focus on speech recognition and spoken dialogue systems. He is the inventor and original author of the HTK Toolkit for hidden Markov model-based speech recognition which underpins a number of systems in the UK and world-wide both in academia and in industry. More recently he has worked on statistical dialogue systems and pioneered the use of Partially Observable Markov Decision Processes for modelling them. He also has active research in speech understanding, natural language generation and synthesis.
He has over 250 publications in the field and he has received a number of awards including Technical Achievement Awards from the IEEE Signal Processing Society, the European Signal Processing Society and the International Speech Communication Association, and in 2015 he received the IEEE James L Flanagan field award for pioneering work in Speech and Audio Processing. He is a Fellow of the Royal Academy of Engineering, the International Speech Communication Association and the Institute of Electrical and Electronics Engineers.
Special panel session: Research projects
FETLT2015 Workshop will host a special panel session on undergoing research projects on differents subfields on Languages Technologies. Special sessions will be presented by the coordinators of the folloing projects:
Meta-Net
Multilingual Europe Technology Alliance - Network of Excellence

META-NET is a Network of Excellence dedicated to fostering the technological foundations of a multilingual European information society. Language Technologies will:
Enable communication and cooperation across languages.
Secure users of any language equal access to information and knowledge.
Build upon and advance functionalities of networked information technology.
A concerted, substantial, continent-wide effort in language technology research and engineering is needed for realising applications that enable automatic translation, multilingual information and knowledge management and content production across all European languages. This effort will also enhance the development of intuitive language-based interfaces to technology ranging from household electronics, machinery and vehicles to computers and robots.
To this end META-NET is building the Multilingual Europe Technology Alliance (META). Bringing together researchers, commercial technology providers, private and corporate language technology users, language professionals and other information society stakeholders. META will prepare the necessary ambitious joint effort towards furthering language technologies as a means towards realising the vision of a Europe united as one single digital market and information space.
Fore more information, visit
the project site
.
---
Lider Project
Linked Data as an enabler of cross-media and multilingual content analytics for enterprises across Europe
The project's mission is to provide the basis for the creation of a Linguistic Linked Data cloud that can support content analytics tasks of unstructured multilingual cross-media content. By achieving this goal, LIDER will impact on the ease and efficiency with which Linguistic Linked Data will be exploited in content analytics processes.
We aim at providing an ecosystem for the establishment of a new Linked Open Data (LOD) based ecosystem of free, interlinked, and semantically interoperable language resources (corpora, dictionaries, lexical and syntactic metadata, etc.) and media resources (image, video, etc. metadata) that will allow for free and open exploitation of such resources in multilingual, cross-media content analytics across the EU and beyond, with specific use cases in industries related to social media, financial services, localization, and other multimedia content providers and consumers. In some cases, we will explore new business model and hybrid licensing schemes for using of Linguistic Linked Data in commercial settings for Free but not Open resources.
LIDER will build upon such existing standards, reference architectures, technologies, and data in order to build the grounds for the use of Linguistic Linked Data for content analytics tasks. Current language resource infrastructures (ELRA, META-SHARE, Monnet, BabelNet) will have a special role and relevance in the project, thus ensuring the adoption of the project outcomes by these infrastructures.
Fore more information, visit the project site.
---
Rockit Project
Roadmap for conversational interaction technologies
ROCKIT is a strategic roadmapping project for research and innovation in the area of natural conversational interaction. The primary scientific focus concerns interactive agents which are proactive, multimodal, social, and autonomous. A second focus concerns systems which can extract and exploit rich context and knowledge from heterogenous data sources.
The main goal of ROCKIT is the development of a Research and Innovation Roadmap which integrates the vision and innovation agendas of those organisations (concerned with R&D and exploitation) in the field across Europe, with a broad coverage across sectors. A key goal is to bring together public sector research organisations with commercial organisations at all scales, with a particular focus on SMEs that represent the majority of fragmented commercial activity in Europe.
A key aspect of ROCKIT will be to organise a European research and innovation community in the area of conversational interaction technologies, integrating a wide-range of commercial organisations with application and use links to the area. ROCKIT will be structured around a set of sector-based clusters including mobile applications, healthcare, education, games, broadcast media, robotics, law enforcement, and security.
Fore more information, visit the project site.
---
Sensei Project
Making sense of human - human conversation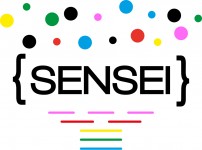 Conversational interaction is the most natural and persistent paradigm for business relations with customers. In contact centres millions of calls are handled daily. On social media platforms millions of blog posts are exchanged amongst users.
Can we make sense of such conversations and help create assets and value for private and public organizations' decision makers? And indeed for anyone interested in conversational content?
The overall goals of the SENSEI project are twofold. First, SENSEI will develop summarization/analytics technology to help users make sense of human conversation streams from diverse media channels. Second, SENSEI will design and evaluate its summarization technology in real-world environments, aiming to improve task performance and productivity of end-users.
Fore more information, visit the project site.
Committee
Program committee and advisory group
Alex Acero (Apple)
Roberto Basili (University of Roma
Núria Bel (University Pompeu Fabra)
Johan Bos (University of Groningen)
Nicoletta Calzolari (CNR-ILC)
Khalid Choukri (ELDA)
Walter Daelemans (University of Antwerp)
Thierry Declerck (DFKI)
Marc Dymetman (Xerox Research Centre Europe)
Antonio Ferrandez (University of Alicante)
Ana García-Serrano (UNED)
Jesús Giménez (Nuance Communications)
Xavier Gómez-Guinovart (University of Vigo)
Gregory Grefenstette (Inria)
Veronique Hoste (University of Ghent)
Eduard Hovy (Carnegie Mellon University)
Rebecca Jonson (Artificial Solutions)
Alon Lavie (Carnegie Mellon University)
Ramón López-Cózar (University of Granada)
Teresa López-Soto (University of Seville)
Roberto Manione (AlliumTech)
Daniel Marcu (USC)
Joseph Mariani (LIMSI-CNRS and IMMI)
Patricio Martínez-Barco (University of Alicante)
Ruslan Mitkov (University of Wolverhampton)
Antonio Moreno-Sandoval (Autonomous University of Madrid)
Sergei Nirenburg (Rensselaer Poytechnic Institute)
José Manuel Pardo (Universidad Politécnica de Madrid)
Mirko Plitt (Modula Language Automation)
Massimo Poesio (University of Essex; University of Trento)
Andrei Popescu-Belis (Idiap Research Institute)
José F. Quesada (University of Seville)
Manny Rayner (University of Geneva)
Steve Renals (University of Edinburg)
Giuseppe Riccardi (University of Trento)
Francisco J. Salguero (University of Seville)
Kepa Sarasola (University of the Basque Country)
Javier Sastre (Ateknea Solutions)
Marc Steedman (University of Edinburgh)
David Suendermann-Oeft (ETS)
Khiet Truong (University of Twente)
Alfonso Ureña (University of Jaen)
Jason D. Williams (Microsoft Research)
General Chair
José F. Quesada (University of Seville): jquesada at us dot es
Organizing Committee
Joaquín Borrego-Díaz (University of Seville)
Juan Galán-Páez (University of Seville)
Diego Jiménez (University of Seville)
Teresa López-Soto (University of Seville)
Francisco J. Martín-Mateos (University of Seville)
Ángel Nepomuceno (University of Seville)
José F. Quesada (University of Seville)
Francisco J. Salguero (University of Seville)
Registration
| | | |
| --- | --- | --- |
| | Before 1st October 2015 | After 1st October 2015 |
| Standard fee | 250 Euros | 300 Euros |
| Student fee | 150 Euros | 200 Euros |
| Accompanying person* | 60 Euros | 60 Euros |
| | |
| --- | --- |
| | Teaching staff & students at university of Seville** |
| Standard fee | 100 Euros |
| Admission only*** | Free |
(*) Social event and dinner (19th November).
(**) Proof must be sent by email (fetlt2015@gmail.com) to the organization.
Para el personal PDI de la US: El Workshop es una actividad reconocida por el ICE. Para la inscripción se puede utilizar el sistema AFOROS o bien enviar un mensaje a (ice arroba us punto es) indicando en el asunto "Inscripción en el Workshop Future and Emerging Trends in Language Technology", y adjuntando los datos personales.
(***) Registration is compulsory and the number of participants is limited.

FETLT 2015 authors must be registered and pay the conference fee before the early deadline indicated above.
Student registration fees must be accompanied by a signed letter of certification from the professor of the undergraduate / M.Sc. / Ph.D. student. The scanned copy of the letter must be sent by email to fetlt2015@gmail.com.
Registration fees includes:
Admission to all sessions
Social event and dinner
Certificate of attendance
One printed copy of the conference proceedings
Coffee-Breaks and lunch during the Conference
Accompanying person's registration includess:
Registration Process
Firs step is filling the Registration Form. The payment of conference fee must be done by money transfer to the following account:
Account holder name: Fundación Fidetia
Account holder address: Edif. ETS de Ingeniería Informática. Avda. Reina Mercedes, s/n. 41012 – Sevilla.
IBAN: ES07 0049 0919 1129 10180355 / SWIFT: BSCHESMM
Subject: FETLT 2015 - [your name]
We will confirm the payment reception and your complete registration by email as soon as we receive and check the payment. In the case you issued the payment but didn't receive the confirmation of receipt of the payment from us until the conference date, please bring a proof of issuing the payment (e.g. a money transfer transcript) with you.
Registration Form
Venue
University of Seville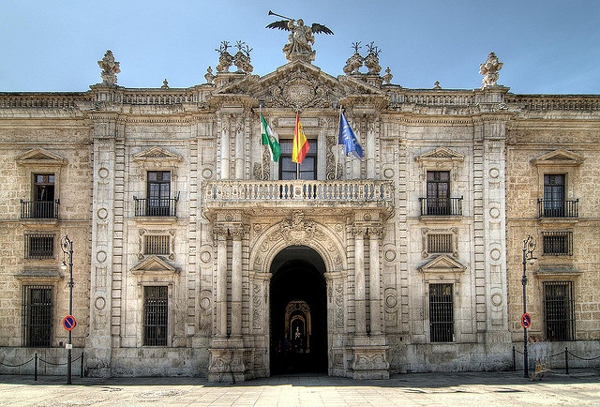 Conference venue on Google Maps
---
Getting to Seville from the airport
By Taxy
Getting from the Airport into the center of Seville is easy and quick. If you catch a Seville Airport Taxi the journey will take you around 15 mins and costs between 22 and 25€ depending on the time of day you travel. The taxi rank is just outside the terminal building. For more information visit this link.
By bus: EA (Airport bus line)
The EA bus line connects Seville's San Pablo Airport with the city center. The bus stops close to Plaza de Armas bus station, Santa Justa train station, Prado de San Sebastian regional bus station and other places. For detailed information, visit this link
---
Getting to Seville from Madrid
There are three ways for coming from Madrid to Seville:
By Plane
If you arrive to Madrid by plane to Barajas Airport, the most comfortable way to reach Seville is by taking another plane to Seville. Your local travel agency can inform about the connections, otherwise you can see the flights timetable from Madrid to Seville at http://www.iberia.com
By Train
The second way to come to Seville is by train. Trains to Seville leave from Atocha Train Station. The timetable and prices are available here. If you arrive to Madrid by plane and you want to came to Seville by train (or by bus, the third option) you can go from the Airport to the train station by taxi, but the cheapest and fastest way is the underground. You can take information (even a detailed map) about it at: http://www.metromadrid.es/
By Bus
It is the cheapest way, but the trip lasts about six hours. The bus leaves from "Estacion Sur" (Mendez Alvaro s/n, local 3-4) which can be reached by taxi or underground, and the bus company is Socibus. The timetable and prices are in the company web: http://www.socibus.es/
Useful Information
Contact
General information: fetlt2015 at gmail dot com